KENYA links
Vacation Rentals Diani Beach Kenya
Kenya Directory
Villa Pierre Diani Beach Kenya

Private Holiday Cottage to rent Diani Beach Kenya
The cheapest private Holiday Cottage on Kenya's coast:
from only £ 25 pppn,private,inexpensive and yet exclusive Holiday Cottage in Diani Beach Kenya,with cook and housemaid,jacuzzi pool and snooker in the tropical garden,close to the superb beach of the Indian Ocean
Booking enquiries: from the UK, from abroad or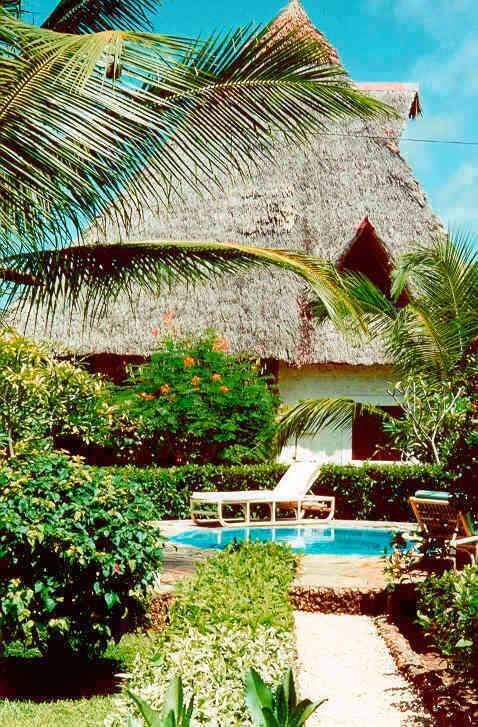 Villa Pierre is a private inexpensive Holiday Cottage in Diani Beach. It is only 8 minutes walk from the Villa to the superb white sandy beach.An ideal hideaway for couples and honeymooners.A small paradise for individualists and adventurers. It is also suitable for families with small children. I go myself every year for holidays with my wife and my three kids . There are three similar Cottages on the compound , named after my three children : Villa Monique,Villa Pierre and Villa Mwangi. All three Villas are build in the tradional coastal style combined with European standard. One Villa can accommodate maximum 6 persons comfortably.Downstairs each Villa has two bedrooms with one doublebed each.All bedrooms have airconditoning,ceiling fans and mosquito-nets . Upstairs there is an open studio-like area with further sleeping facilities.The studio can also be used as a living room. All beds upstairs are also equipped with mosquito-nets, although there are not many mosquitos in this area anyway. There is no need for an aircondition upstairs . The tradional architecture of the Villa makes use of the always present sea breeze and provides the area with a cool and very pleasent Temperature . Housemaid service is provided and included in the price. The Villa will be cleaned on a daily basis and your beds will be made . Linen and a basic set of towels are provided .The kitchen is small but fully equipped . Of course you may cook yourself if you wish.If you like cooking , there is plenty of room to experiment with exoctic spices ,fresh tropical fruits and vegetables,fresh fish and seafood,meat and even African game like Impala ,Ostrich,crocodile, etc is available ,although you might have to buy it from Mombasa since game is not affordable and not much liked by the local population . However you have your own personal chef available who will be happy to cook for you local and international specialities. This servive is also included in the price , there are no extra charges for the cook.We will welcome you with a welcome drink and a shopping basket with some basic food on your first day . So you can relax and it will save you the hustle to shop around the first day.Once you are settled the housekeeper will show you the area and tell you where the shops etc are . This service is free as well, however then you have to buy and pay your own food and basic essentials like toiletpaper,soap,etc yourselfThere is one bathroom with a shower and a toilet.We have the privilege to have our own water source and water supply( drinking quality) and therefore always hot and cold water available.Many places around Mombasa do have sometimes water supply problems especially if it did not rain for a few months or so.There is an outdoor jacuzzi pool in the tropical garden and a snooker table as well which can be used anytime free of charge .Every house has a roofed terrace . Most guests use it as an outdoor living and dining room and spend most of their time their if they are at home.Location : Villa Monique is situated in a beautiful private estate called Bougainvilla II , the place is very private and peaceful , without noise or other people disturbing you .And yet all action is nearby. To reach the superb white sandy beach you have to walk about 8 minutes a small path through the bush . By the way,the famous writer Ernest Hemingway used to come to Diani mainly for Deep Sea Fishing, according to him Diani is "one of the most beautiful white sandy beaches of the world"Security: Kenya in general is certainly better than it's reputation ,and often articles and reports published by the Western media do not always reflect the real situation of the whole country , especially in the coast province. I personally feel safer in Diani Beach than eg in London nowadays,where I spend most time of the year. Of course Villa Monique still has a 24hours alarmsystem and there is always a night-watchman around .So far we did not even had one arlam ( I have bought the first house 1998 )


Car rental : There is a parking space in front of the garden which is suitable for maximum two cars . Cars,car hire and taxis in Kenya are relatively expensive in Kenya by international standards.There are several small car rental companies in Diani, private car hire is also available.My housekeeper will be happy to assist you in finding a reasonable priced and reliable car if you wish.Diani Beach has a good touristic infrastruture and much to offer for the visitor. Diani also is blessed with a beautiful coral reef and is a paradise for Scuba Diving . There are several Diving schools with aproved diving instructors in the area. They are offering diving trips for just a few hours or up to several days which normally includes exciting things like night diving and wreck diving. Even if you are not a diver you should at least do a little bit of snorkeling to get a glimbse of the fascinating underwater world in Diani.It is also possible to book a Dhow Safari . A Dhow is the tradional sailing boat of the East African Coast . The used to sail far as India and the Middle East,trading with slaves,spices and other goods . Nowadays there are mainly build for tourists and for a few private owners . A few small operators in Diani offer Dhow Safaris to one of the small islands along the Kenyan Coast often combined with snorkeling , diving or fishing with meals included .If you are bit lucky you will Dolphins and giant sea turtles on the way . Diani is also an excellent place for Deep Sea Fishing.As mentioned ,the famous writer Ernest Hemingway visited the Kenyan Coast regurlary for Big Game Fishing . There are several operators in the area. Obviciously going on the Safari is one of Kenya's main atraction: several small tour operators in Diani offering Road Safaris to Amboseli , Tsavo East and Tsavo West National Parks . Shimba Hills National Park is only about 25 miles from Diani Beach . Since Diani has a small airstrip,you can fly with a small aircraft straight to the world famous Masai Mara. Diani Beach is an excellent base for excursions : sightseeing tour in Mombasa, visiting the spice island Zanzibar via small aircraft or you can sail a few days with a Dhow to Zanzibar !Tours to climb Mount Kilimanjaro in Tansania ( the border is just 30 miles south of Diani ) and Mount Kenya , the two highest mountains in Africa can also be arranged .On the northern end of Diani you find Leisure Golf Club,only 10-15 minutes drive from Villa Monique.5833 metres-par 72-18 holes. Leisure Golf Club,the only golf course on Kenya's south coast is the latest golf course in Kenya.Featuring 18 holes and it is one of the most challenging courses in Kenya.The course features American style bunkers.Tidwarf,tifgreen and pennlinks grasses,imported from the United States of America are used for the tees,fairways and greens respectively.There are two water feature holes.The first one is a man made lake,converted from an old quarry and holds 70 million litres(15 million gallons) of water and is the source of the course-wide pop-up sprinkler system.The finishing hole is a 547 yard par five dogleg,with a lake with live crocdiles planned for it ! The course is certainly not for the weak-hearted !Health : There is a well equipped small private Hospital in Diani "Diani Beach Hospital" at the northern end of Diani,next to Leisure Lodge Golf Club . The facilities are good and the hospital does accept most western travel health insurances , although they might ask you to pay at least a part of your bill in cash or credit card .Nightlife in Diani : There are many small bars in the area , offering mainly Tusker ( a very good Lager beer , highly recommended by myself ), but ask for a cold one ! You also should try "Nyamo Choma" which is Kenya's speciality : barbequed meat with hot spicy chili sauce .Tusker and Nyama Choma have to go together !There are several good restaurants in Diani offering local food , cuisine from Zansibar , Chinese, Indian,Italien and German.The two favorite beach bars are certainly "Fourty Thieves" and "Nomads" at the moment.The "Shakatak" in Diani Beach is the only nightclub/discothec on Kenya's south coast . This etablisment has a bit of a reputation as a pick up joint ,however can be good fun. The DJ's are certainly quite good and play a good mix form UK and US charts, Indie, local music and reggae and Lingala sounds from Zaire .The food which you can have at the outdoor restaurant is also not bad. Drinks are a bit pricy for many people , so the crowds get warmed up at the nearby "Tandoori-bar" before entering the dance floor . The nightclub is not very big and it can be a bit hot inside on a busy weekend night with airconditioning not coping anymore .I recommend to see the place at least once and then make your own picture..
By the way , your age does not matter, your money is more important...Shopping : Diani Beach has a small European style shopping center where you can buy most of the things you need while on holiday: pharmacy,bank,butchery,bakery,a few safari and tour operators, African fashion boutique,etcFor more local colour and cheaper prices you can take a Matadu( public minibus) to Ukunda , the local village just a few miles away.It is worth to take the time to explore Ukunda to learn bargaining and compare prices , bargaining is an essential skill in Kenya !Transport : The transport for ordanary Kenyans is the Matadu(Minibus) .It is perfectly okay for you to use them for your local travel within Diani or Ukunda .They are cheap and operate from the early morning hours till late , basically as long they have business, means as long as the bars are open,there is no fixed time . However , I DO NOT recommend for my guests to use Matadus for long distance travel eg to Mombasa.Accidents are common,roads and cars are often not maintained at all and some of the drivers are insane.
ARRIVAL AND DEPARTURE TRANSPORT :
Diani Beach is about 30 miles from Mombasa Airport .We will pick you up from Mombasa Airport,Railway Station or Bus Station and make sure you arrive relaxed and hustle free at your holiday villa . And we will bring you safely and comfortable back to the Airport Mombasa once your holiday in Diani Beach Kenya comes to an end.Costs are ca 3000 KSh(less then 30 GBP ) each way ,payable in cash on arrival to the house caretaker.This price is for a saloon car,fully licenced as a taxi with an experienced driver working for us many years.
INCLUDED: your personal chef/cook and housemaid service.Of course you are free to cook by yourself as well or you can try one of the excellent local restaurants. But you should test the excellent skills of our local chef .He will prepare what you wish and when you wish to dine . No fixed times like in a hotel .The choice is yours : seafood,indian,arabic,african,kenyan game,fish,plenty of fresh organic vegetables and tropical fruits , the famous cuisine from Zansibar,he will also provide cooking for vegetarians and halal meat .If you want to stick to your food at home , there will be no problem either.The service of the cook are FREE within his normal working hours.Out of hours the cook might be available as well but you might have to pay a small fee .
INCLUDED : We will welcome you with a refreshing tropical drink .We will even fill your fridge for the first day with the basics you need . So you will not have any troubles the first day to shop around and you can relax and recover from your flight .
INCLUDED : ALL utilities : eg water(we have our own water source and the water has drinking quality and water is always available) electricity ,garbage collection,gardening,security,waste water and all these kind of things ,there are no hidden costs .
INCLUDED : Although Villa Monique is in a very safe area we have of course for your peace of mind a 24 hours alarm system and in the night there will be a watchman to make sure you sleep well.Anyway there will be always my staff around the compound , during the day our gardener,the housemaid and our chef/cook.During the night the watchman will be there . There are always more than happy to assist you .And of course there is Anke the housekeeper who will show you a bit of Diani Beach and will do the best she can to make your holiday unforgetable.
INCLUDED : You are very much welcome to use the Jacuzzi Pool and the snooker which are both integrated in the tropical garden
INCLUDED : All bedrooms have mosiquito-nets,ceiling funs and aircondition

click below for pictures of Villa Pierre :
Testimonials of my guests
Pictures Villa Pierre
KENYA links