Gamewatchers Safaris
Gamewatchers Safaris has been operating in Kenya for over 15 years and offers a range of safaris to some of the best wildlife reserves and parks in Africa.The emphasis is on the more personal and exclusive smaller camps, use of 4x4 safari vehicles for game drives in preference to vans, and the option of air transfers as an alternative to driving by road between the parks. Gamewatchers also runs small and exclusive safari camps in private wilderness reserves. Adjacent to Amboseli: Poroni Camp, in the Selenkay Conservancy, and in the Maasai Mara ecosystem: Poroni Camp, in the Ol Kinyei Conservancy. Here you will escape from the crowds and experience the African wilderness without the presence of other tourist vehicles. Our Porini Camp game drives are in open-sided 4x4 safari vehicles, with expert safari guides, for the best wildlife viewing.Mission Statement: We are committed to helping preserve Africa's unique wildlife, landscapes and supporting local communities. We believe that the best way to do this is through sustainable ecotourism ventures that benefit the local communities and give our guests a rewarding experience. Our Porini Group of Camps is a sustainable model that practically implements these principles. We are dedicated to providing our clients with exemplary personalized service and strive to have them leave as friends. We will be delighted to assist in arranging your safari in Kenya and will be glad to be of service.
Amboseli Porini Camp click here for prices,photos,details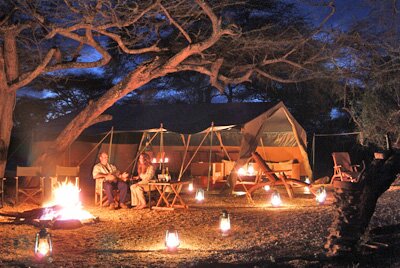 The Selenkay Conservation Area lies a few miles north of Amboseli National Park and is an important dispersal area and rangeland for wildlife migrating out of Amboseli. In May 1997, a Kenyan organisation called Porini Ecotourism agreed with the local Maasai community to set aside the area for a reserve for wildlife, so that the habitat could be protected and wildlife conserved.The community are receiving a rent for the lease of the area by Porini Ecotourism, plus an entry fee for each tourist visitor. All roads have been constructed using local labour so that the members of the community gain employment from the Conservation area. In addition to the road maintenance team, Game Scouts have been employed to carry out patrols to see that the wildlife is protected. Gamewatchers Safaris is supporting the conservation of wildlife through the community at Selenkay, and is operating daily safaris from Nairobi each week staying at their Porini Camp.Selenkay Conservation Area is well off the beaten track and has not been visited by tourists until now. It lies in the heart of Maasailand and the animals are truly wild and not yet habituated to the presence of vehicles. The numbers of tourist visitors are being limited to a maximum of twelve per day to retain the wild and unspoilt nature of the area and to minimise the impact on the environment. Within the conservation area the following animals have been seen recently: elephant, lion, leopard, cheetah, Thompson's and Grant's gazelles, gerenuk, impala, oryx, lesser kudu, zebra, wildebeest, giraffe, warthog, striped hyena, jackal, bat-eared fox, caracal, African wild cat, serval cat, genet cat, honey badger, mongoose and ostrich. Birdlife is prolific, especially birds of prey.Accommodation while on safari is at Porini Camp, within the conservation area. The facilities include 6 spacious guest tents, comfortably furnished and with en suite bathrooms including shower, wash basin and flush toilet. Tents have solar-powered electric lighting. The camp is small and is on the lines of the traditional luxury safari camp, but with more comfortable bathroom arrangements than were available to the big game hunters of earlier years! The camp is private and only available to clients on the escorted safari itinerary with a maximum of 12 guests.All transport on this safari is in a specially designed open-sided Landrover 4 wheel drive safari vehicle. Going on safari in a 'proper' safari vehicle gives a far better safari experience than traveling in the minibus vans with window seats used by other tour operators! And as Selenkay Conservation Area is a private game reserve you will not see any other vehicles or minibuses.
Masai Mara Porini Camp click here for prices,details,photos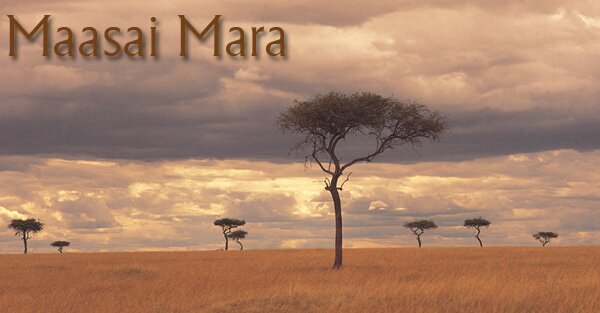 Porini Camp has recently been set up in the exclusive wildlife conservancy of Ol Kinyei, one of the most beautiful wilderness areas in the Serengeti-Mara eco-system. Mara Porini Camp This is pristine wilderness with open savannah plains, riverine forest, springs, streams and rivers, rolling hills and spectacular views across the Mara. Ol Kinyei belongs to a Maasai community who have recently set aside the conservancy as a sanctuary for wildlife. The conservancy holds a wide variety of the animal species for which the Mara is famous including a large resident pride of lions. The Porini camp has 6 guest tents sited in the shade of Yellow-barked Acacia trees along the banks of the Laetoli, a permanently flowing watercourse within Ol Kinyei . The tents are spacious and each has an en-suite bathroom with flush toilet and safari shower. The camp accommodates a maximum of 12 guests, giving the experience of real camping in the bush in an exclusive private wilderness but with all the comforts required by discerning travellers. Food is excellent with home baked bread, fresh salads and high quality meals prepared by the camp Chef. Within the Ol Kinyei conservancy guests enjoy morning , evening and night game drives, sundowners at scenic viewing points and escorted walks with Maasai guides. The camp is located less than 18 kms from the Maasai Mara park boundary. Ol Kinyei Conservancy is 250 kms from Nairobi by road - a 4 hour journey. It has its own airstrip for private charter flights and is 16 kms from the Siana airstrip used by the daily scheduled flights to Mara from Nairobi.
Gamewatchers & Porini Camps Environmental Policy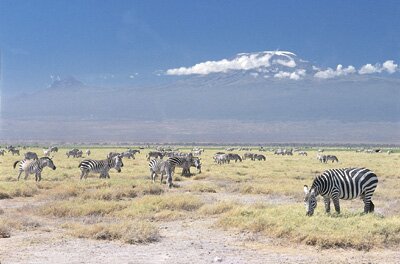 Gamewatchers Safaris and the Porini Camps are committed to responsible and sustainable tourism and to making a positive contribution to conservation of wildlife habitat and to create benefits for local communities in the areas where we operate. We believe that the ecotourism industry can play a key role in raising awareness among tourists of the environmental consequences of their actions, especially when it brings them in close contact with nature and the environment, and we strive to achieve this through our camps and company philosophy. We believe that this will lead to environmentally conscious behavior and activities to help preserve the environment. Our environmental policy addresses the impact and management of the land, water, energy, sewage and solid wastes.
Land
We are committed to protecting the natural flora and fauna found in the areas that we operate in. Our tented camps, purposefully, have no permanent structures and are strategically placed around the available trees and shrubs. In so doing, when the time comes to remove the camp the area will revert back with no visible signs of a camp or people ever having been there. We are also very aware of the risks and damage of fires and ask our guests to help us avoid this. We do not allow smoking on game drives and also ask our visitors not to smoke inside the guest tents. Within camp, smoking is limited to the area around the Mess Tent, where an ashtray is provided and we request guests to discard cigarette ends into these ashtrays. The total number of guests at any one time is limited to a maximum of only twelve, thereby preventing damage to the environment that may be caused by the large numbers found at many other lodges and camps. We believe in setting up private conservancies, where possible, to ensure protection of the wildlife and flora and providing a direct monetary benefit to the surrounding local communities, through a per tourist fee and also through employment. We find that this increased-direct-value to the local communities results in their active commitment to preserving the wildlife and fauna found in their areas. The local communities have co-existed with the plant and wildlife for centuries and have a vast and valuable knowledge of the land and all contained within it. We believe, in learning from them and providing our guests the opportunity to learn first hand from the local people. We also make an effort to actively help in educating the communities on the benefits to them and their lands from ecotourism projects.Water
We are committed to conserving and preventing contamination of water found in our areas and realize that it is a precious resource for us and the local community. We have to transport the water in for use at the camp and we request that our guests conserve water as much as possible. Our tents are equipped with safari showers and the total water per tent is limited to less than 20 litres. So we advise our guests to turn off the tap while soaping, then turn it on again to rinse off. We also ask guests to only flush the toilet when necessary. All sewage and waste water is managed so as to prevent any contamination of the water table and water courses.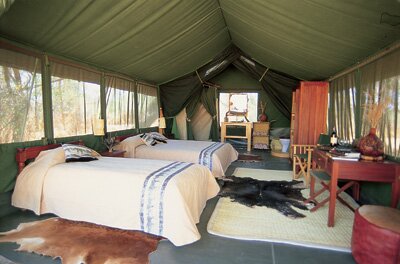 Energy
Solar Power. We have avoided relying on generators to provide power to the camp - and instead have opted for a GREEN solar power system which provides all lighting to the tents - the panels charge a series of solar batteries and step up transformer converts this to 220v. We also run our radio communication equipment from this as well as providing outlets to charge guest appliances such as video camera batteries and the like. We have no other appliances that require generated power and the camp kitchen refrigeration is through kerosene and gas fridges.Water Heating and Cooking. We have ensured that no bush charcoal is used in the camp and conservation area - as Kenya has a massive problem with deforestation caused by production of charcoal fuel that has reached a national crisis level. Instead we have opted for a safe responsible environmentally friendly "green charcoal" briquette. This is used in our efficient boiler to heat all water for guest purposes. All cooking is done on open charcoal ovens again using the "green charcoal" briquette or using gas cookers.
Solid Waste
We have implemented a recycling system for all waste - this is segregated into certain categories [Glass, plastics, metals and tins, used oil, mineral water bottles, used batteries, paper waste, and all bio-degradable waste] The segregated waste is then treated accordingly - the bio-degradable waste is composted in a closed and locked pit - and the remainder is packed and then transported back to Nairobi for proper disposal.
Sewage
All guest waste water and sewerage is presently directed into 2 separate septic tanks for proper and effective treatment and to ensure there is no pollution of the water table.
Gamewatchers Safaris click here for prices,photos,details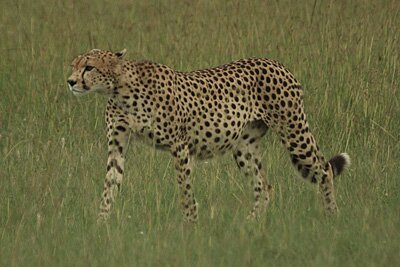 Porini Safaris2 nights / 3 days – Daily departures

2 nights at either Porini Camp in Ol Kinyei Conservancy or Porini Camp in Selenkay Conservancy for a true wilderness safari experience.

Maasai Safari 5 nights / 6 days – Daily departures

2 nights at Amboseli Porini Camp and 3 nights at Mara Porini Camp, combining Amboseli and the Mara.

A 5 night safari featuring the exclusive Porini Camps. Including walks and night drives, game drive in Amboseli for viewing elephants close up, and a three night visit to the famous Maasai Mara. Transfers are by road to Amboseli Porini Camp and by air to Mara Porini Camp.

Kenya Explorer Safari 6 nights / 7 days – Daily departures

A 7 day road safari: 2 nights at Amboseli Porini Camp in the Selenkay Conservancy, with walks and night drive, game drive in Amboseli for viewing elephants close up. A 2 night visit to Lake Nakuru to see its famed flamingos, and with an excellent chance of seeing rhino and leopard. Finishing up with 2 nights in the Maasai Mara ecosystem, renowned for lions, cheetahs and leopards.

The Best of Kenya Safari 6 nights / 7 days - Daily departures

This 7 day safari features 2 nights each in three of the most famous wildlife areas in East Africa - Amboseli, Samburu and Maasai Mara - and offers a diverse variety of species including all the well known big game animals. Travel between the parks is by air to avoid long road journeys, and accommodation is in luxury tented camps. All game drives are in 4x4 safari vehicles (not vans).

Transfer by road from Nairobi to Amboseli Porini Camp and then flights from Amboseli to Samburu, Mara and back to Nairobi.

Kenya Family Safari 6 nights / 7 days

A one-week safari with a difference! Designed specially for families, this holiday offers comfortable accommodation and activities for the children. Beginning with some unforgettable animal encounters near Nairobi, your wildlife safari continues to 2 very different reserves, rich with game - Samburu and the Maasai Mara. There is an option of a beach holiday afterwards. Travel between the parks is by air to avoid long road journeys. Accommodation is in luxury tented camps and all game drives are in 4x4 safari vehicles (not vans).

Kenya Luxury Camp Safari7 days/ 8 nights

An 8 day safari for the discerning traveller, with a night to relax at a famed Nairobi Country Club, before setting off to visit three of Kenya's most prolific wildlife reserves, Amboseli, Samburu and the Maasai Mara. As befits the name, our Kenya Luxury-Camp Safari offers luxury tented accommodation in small exclusive camps, for a more personal safari experience. The initial outward journey to Porini Camp Selenkay is by road - 3 hours from Nairobi - but the remaining journeys between parks are by light aircraft to avoid lengthy journeys on rough roads and to give you a bird's eye view of Kenya's stunning countryside.

Big Cat Safari 6 nights / 7 days – Departs every Monday

A highly recommended one week safari staying in exclusive smaller safari camps and eco-lodges offering comfortable accommodation in private wilderness conservancies. We visit 3 of Kenya's classic wildlife parks - Amboseli, Lake Nakuru and Maasai Mara - aiming to see a wide variety of wildlife species and especially the cats. All game drives are in 4x4 safari vehicles (not vans).

Maasai & Lamu Island Safari 8 nights / 9 days

A 9 day safari combining wildlife, local culture and the beach. All stays are purposefully in small exclusive camps and lodges so that you can be in touch with the environment and the people. You'll visit 2 of the most famous wildlife reserves in Africa, Amboseli famous for its elephants and views of Kilimanjaro and the Maasai Mara famous for its big cats and wildebeest migration. Then on to the historic Swahili island of Lamu and the small lodge of Kipungani Explorer,

Galdessa & Amboseli Porini Safari 4 night/5 days

This 5 day safari provides a mix of accommodation, allowing you to experience one of the finest lodges and an exclusive tented camp. Visiting the game rich regions of Tsavo East, Selenkay Conservancy and Amboseli National Park

Mobile Camping Safari 6 nights / 7 days – 2 departures each month.

A week on an adventurous camping safari with excellent guide and in four wheel drive safari vehicle, staying in a lightweight mobile camp. You camp in private conservancies off the beaten track and visit Amboseli, Lake Nakuru and the Mara. This is an expedition and involves some element of 'roughing it' but with excellent guiding, great locations and at a budget price.

Intrepids Flying Safaris Daily departures from Nairobi

A choice of itineraries featuring combinations of Porini Camp and some of the Heritage properties in Kenya. With eight properties spanning three different brands, Heritage offer a wide selection of safaris, with a choice of activities and a warm welcome, in some of Africa's wild places. Their famous Intrepids flying safaris and best-selling Voyager holidays also include free membership of Africa's leading kids' safari clubs – offering a thrilling 'bush education' to all adventurous youngsters and school groups.

AIR SAFARIS from Nairobi:

Gamewatchers offers a selection of safaris by air to stay 2 or 3 nights in some of the best wildlife areas. These air safaris may be combined to create itineraries visiting several parks. All transfers are by air and game drives from the camps are in 4x4 safari vehicles with experienced guides.

About dianibeach.co.uk : This is the first private and independent Kenya travel and tourist guide on the net.It aims to become the leading website about Kenya,encouraging ecotourism and envirement friendly investments in Kenya,offers free and low cost web promotion for local small business,offers free and low cost investment consulting for small and middle scale investors to Kenya,employs Kenyans to keep the website up to date and contributes actively to "make poverty history in Africa" .

C 2004-2006 hosted by