Welcome to Kijiji Cottages in Diani Beach
Kijiji is the Swaheli word for "small village"
Cottages is situated on the stunning tropical paradise of Diani Beach which is located 25km south of Mombasa town and is one of Kenya's finest beach resort areas. The palm-fringed, white sand and coral beach is blessed with a coral reef and clear turquoise sea, both of which are perfect for scuba diving and snorkelling.We are a small family-run business offering various-sized self-catering cottages with elevated views of the Indian Ocean, and also the privacy of a secluded 11-metre swimming pool. Colin and Sharon Forbes are your resident hosts at Kijiji Cottages.Enjoy the relaxed, African atmosphere in your own private, fully-furnished, Swahili-style cottage with makuti (coconut palm) thatch roof, nestling amongst the mature gardens and indigenous forest. Gaze out to the Indian Ocean from your sea-facing terrace with a cold sundowner and watch the moon rise from the sea. Savour the flavours of fresh fish and seafood brought to your door daily directly from the sea by the local fishermen. Experience close-up viewing of our resident wildlife such as nocturnal bushbabies, the shy colobus monkey, suni antelope, and the cheeky sykes and vervet monkeys.
Diani has several tour operators with whom you can easily arrange a safari by air or road to any popular destination in Kenya. Local shops and a choice of excellent restaurants are within walking distance of Kijiji. Plenty of nightly entertainment can be found in the hotels, beach bars and discos. A superb 18-hole golf course is literally 5 minutesí walk across the road from Kijiji, and the Mwaluganji Elephant Sanctuary is only half an hourís drive from Diani.
For an unforgettable African experience, Kijiji Cottages is the perfect choice. Prices start at 14 euros per person per day. Contact Sharon for availability and price.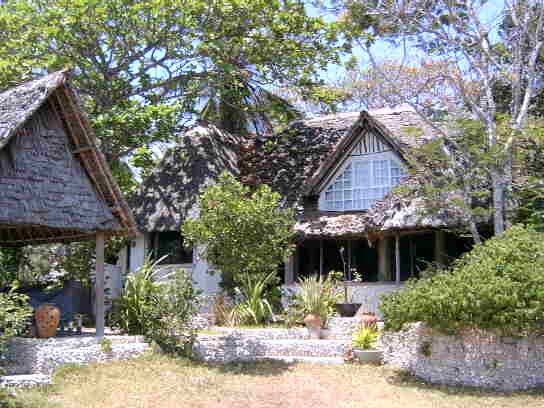 | | |
| --- | --- |
| | Swimming Pool at Kijiji Cottages |
Kijiji Cottages in Diani Beach

IContact Sharon and Colin Forbes directly:

via their own website http://www.kijijicottages.com

via email
About these websites
This website aims to become the best independend online travelguide to Diani Beach,Kenya and East Africa
This website actively supports and promotes ecotourism and small businesses in Diani Beach,Kenya and East Africa
FREE listings for tour operators and small businesses in Diani Beach,Kenya and East Africa
LOW COST Consulting for small and middle scale investors to Diani Beach,Kenya and East Africa
LOW COST webdesign,webhosting and searchenginesubmission for small businesses in Diani Beach,Kenya and East Africa
C 2004-2005 hosted by